Welcome to Happiness is Homemade Link Party. I'm so glad you're back to share with us this Christmas season! Before we get to this week's features, let me share what's been going on this week on the blog. As always I'll add my chosen feature to the end of the party.
You might remember all of the Elf movie night/Christmas party free printables that I shared last week. This week I added to them with a post to show you how to create a DIY Christmas photobooth that includes 6 pages of free printable props to use in it!
What is a family movie night without food, family, and fun? In this post I share with you all food, drink, game, and activities that will create a fun night that your family will look forward to every year at Christmas. Your kids won't remember the gifts they get every year, but they will remember the time that you spend together, especially when you make it this special. I've done all of the planning for you, you just need to put it together. The Elf movie night printables, the photobooth, food, and games combine for an awesome night!
Yesterday I shared one more family tradition free printable set with you, these Christmas Lights Scavenger Hunts. I made four options for you to choose from. As a part of our Christmas Eve family tradition, we always drive around to look at Christmas lights after church. I thought why not make it a little more fun (and competitive if you want) with a scavenger hunt. All you need to do is download the file and print it out for a night of more family fun!
On to the Link Party!
Hi! I'm Mel from Decor Craft Design, and I'm your co-host for the month of December. Before we get to our weekly party, let's enjoy this week's red and white Christmas features made by creative bloggers and submitted in last week's party. I've chosen a delicious recipe and some decor DIYs that are bound to inspire you this Christmas.
Happiness is Homemade Link Party Features
How to make the easiest reusable fabric Christmas gift bags
Julie from Sum of their Stories upcycled fabric to make these beautiful Christmas gift bags. They are pretty yet save money to stretch your budget this Christmas. Head over to her blog where she'll show you how to make your own!
Wendy from My French Twist turned a wall card holder she brought from IKEA into a beautiful macramé Christmas tree card holder. I think she did a wonderful job. In the post she also provides you with a tutorial, so stop by her blog to see how she did it.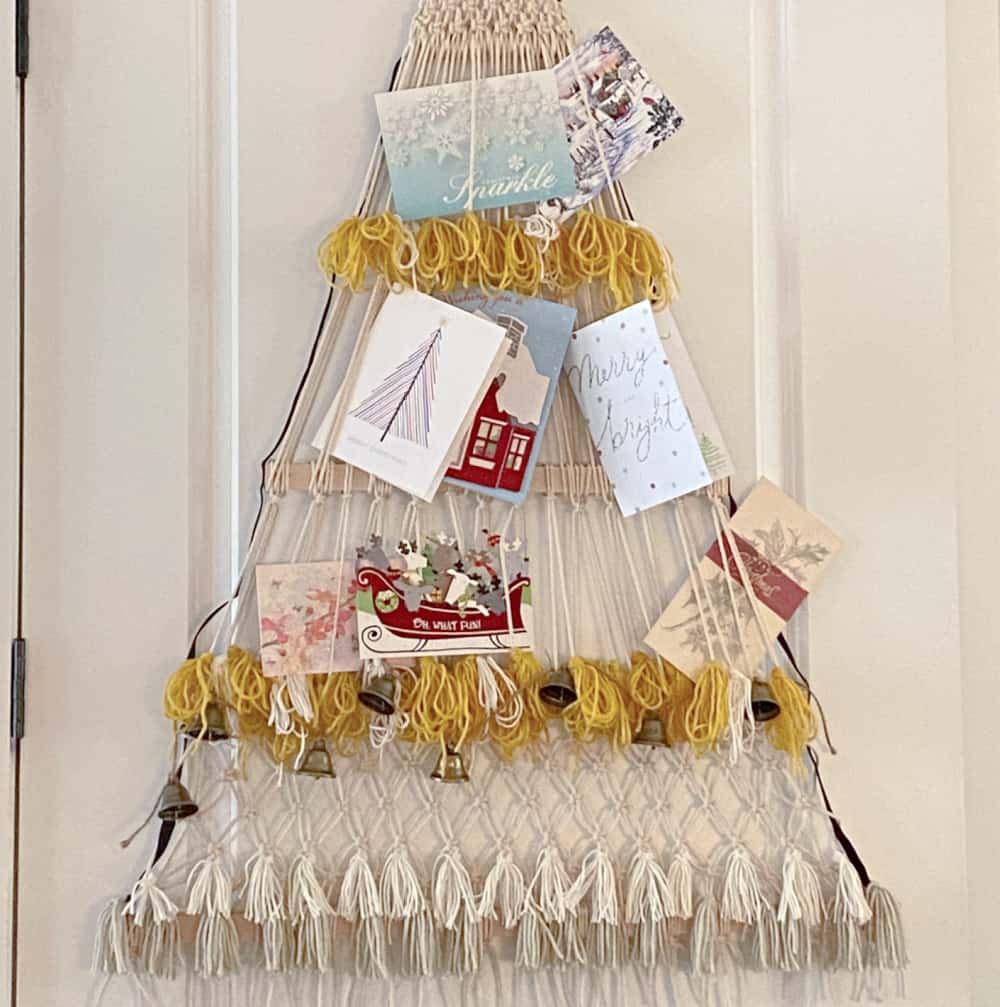 3 Ways to Style a Box for Christmas Decor
I love boxes, from vintage boxes down to the simplest crates. However sometimes we may not know how to elevate them from simple storage to decor pieces. Well, Carol from Blue Sky at Home shows you 3 ways to use a box as Christmas decor. All are very inspiring!
Last week Cindy shared these delicious looking cookie with us. Gram's Pfefferneusse which are hard German spice cookies rolled in powdered sugar. Sounds yummy! Get the recipe from Cindy's On-line Recipe Box. Enjoy it!
Niki's Feature
If you like making and using wreaths as much as I do, you will definitely want to check out this post by Shelley from Calypso in the Country. She shares more ways to decorate with wreaths than by just hanging them on your front door. I'll definitely be on the lookout for some tiny wreaths after reading it!
Thank you for joining us this week whether you are a blogger sharing your latest posts OR a reader enjoying all of the inspirational shares! Don't forget to drop by and say hello to all our hostesses, they always appreciate your visit! Here are all of our hostesses at Happiness Is Homemade!
Linda @ A Labour of Life
Sinea @ Ducks 'n a Row
Beverly @ Eclectic Red Barn
Katie @ Love My Messy Messy Mess
Mel @ Décor Craft Design
Niki @ Life as a Leo Wife
Would you like to be a part of Happiness Is Homemade? We are looking for hostesses to join our team. If you are interested, please email any one of the Happiness Is Homemade hostesses and let them know. We would love to have you join our party!
You are invited to the Inlinkz link party!