Welcome everyone to Happiness is Homemade Link Party! I'm so glad you're back with us or that you've found us for the first time! It's December, so Mel from Decor Craft Design is still choosing our features. I will be adding one of my own at the end of the post. Before we get to the party, let's check out what's been going on on the blog over the last week.
Last Sunday was our DIY blog hop. This month's task was to make an outdoor project. Since it's Christmas, I wanted to make an outdoor decoration for you. I made a set of three lighted gift boxes using Dollar Tree frames. It's pretty easy to do, and the end result is adorable. You can keep them indoors, or place them on your porch to light up the night!
Next I shared many, many free printables for you to thrown your own Christmas family movie night watching the movie Elf! Who doesn't love that movie?! I go all out during each holiday to throw a family movie night with themed food, drinks, decorations, a photobooth, and games. In the printables bundle I included enough pages for you to do that too. You can also use them for a Christmas party.
Make sure to follow me via email because I have more printables, games, and other ideas to have the best family movie night ever. It's a tradition that you children will never forget. Think about your childhood. Do you really remember everything you got every Christmas? Or do you remember the time that you spent together as a family? It takes some time, but I've created all of the things you need for you, came up with a game plan for the night, and all you need to do is cook! Enter your email address below and you'll get an email when I add new printables, tutorials, ideas, and other great posts so you don't miss a thing! I would also love for you to follow me on social media using the buttons in the sidebar.
On to Happiness is Homemade Link Party!
This week's features
These chocolate macaroons that are filled with mild chocolate look pretty and delicious! Who wouldn't want to make them for a party, especially at Christmas? Learn how to bake them at Claire Justine where she guides you, step by step, through her recipe.
This enticing punch is coming from Wanderlust and Wellness looks so enticing. Wanderlust and Wellness promised us that it would be easy to prepare this red Christmas-y drink. Why not give it a shot?
This beautiful wreath is coming from one of our creative co-host, Beverly from Eclectic Red Barn. She did a fantastic job upcycling a pallet into a gorgeous Christmas wreath! Isn't it adorable? Check out her post for the tutorial.
Look at all these fun coffee and hot cocoa bars on Alexandra from On Rockwood Lane. These 30 ideas are fun for adults and children alike. Perfect as a Christmas and the rest of winter treat. Choose your favorite idea or combine a few. Either way, you're inspired to make a beautiful hot chocolate bar for your home!
Eye Love Knots has shared these 30 wonderful crochet ideas that you can use on your Christmas hot chocolate or coffee bars. She has included the free patterns! I'm sure you still have time to make at least one of it before Christmas. I hope you're able to make one and that you enjoy it! (Note from Niki- Sorry everyone. I thought Mel didn't know that the last two posts were from the same person, but she did. A two for one!)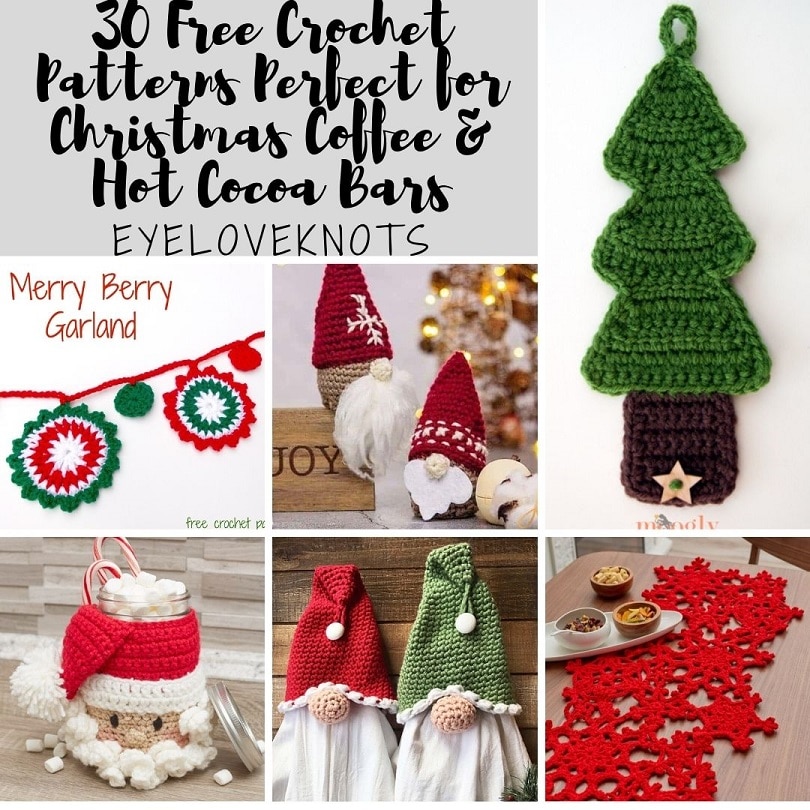 Thank you for joining us this week whether you are a blogger sharing your latest posts OR a reader enjoying all of the inspirational shares! Don't forget to drop by and say hello to all our hostesses, they always appreciate your visit! Here are all of our hostesses at Happiness Is Homemade!
Linda @ A Labour of Life
Sinea @ Ducks 'n a Row
Beverly @ Eclectic Red Barn
Katie @ Love My Messy Messy Mess
Mel @ Décor Craft Design
Niki @ Life as a Leo Wife
Would you like to be a part of Happiness Is Homemade? We are looking for hostesses to join our team. If you are interested, please email any one of the Happiness Is Homemade hostesses and let them know. We would love to have you join our party!
You are invited to the Inlinkz link party!